Microraptor
Comment

1
980pages on
this wiki
Microraptor
Name
Microraptor
Order
Saurischia
Suborder
Theropoda
Class
Sauropsida
Name Translation
Little stealer
Period
Cretaceous
Location
China
Diet
Carnivore (particularly inscetivore)
Length
55-77 centimeters
Microraptor lived in China during the Cretaceous period.
It was one of the smallest known dinosaurs. An unusual and unique feature were the four wings it had. Not like a dragonfly, but wings on its arms and legs. It was probably a carnivore, having been found with enantiornithe (an extinct type of bird) remains, probably using the same methods as modern day eagles and hawks, in which the "raptors" (see
Dromaeosauridae
) are believed to have evolved. It was one of the few defenitely flying non-avian dinosaurs, having adaptations similar to modern birds like a propatagium and an allula, though having a more bat-like wing musculature. It had claws like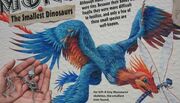 In Popular Culture
Edit
In The Land Before Time 12: The Great Day of Flyers and Hermit of the Black Rock Guido was a Microraptor and he's the only dinosaur that glides.
Microraptor made a appearence in Planet Dinosaur chasing a lizard but was ambushed by another glider called Sinornithosaurus but was able to escape, and in Prehistoric Park that were captured by Nigal Marvin before their home erupted.