Yangchuanosaurus
Comments

0
980pages on
this wiki
Yangchuanosaurus
Name
Yangchuanosaurus
Order
Saurischia
Suborder
Theropoda
Class
Sinraptoridae
Name Translation
Yangchuan Lizard
Period
Late Jurassic
Location
Asia
Diet
Meat
Length
8-10 metres (26-33 ft) long, 3-4 metres (10-13 ft) tall, 3-4 tons
Yangchuanosaurus was a large carnivorous dinosaur that once terrorized the floodplains of China during the Middle-Late Jurassic period. It was similar in size to its American cousin Allosaurus, another large predator.
Description
Edit
At 33 ft (10 m) long and more than 3 tons,
Yangchuanosaurus
was relatively large as a carnivorous dinosaur. It was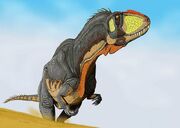 at the top of the chain of its area, as its prey were the sauropods
Mamenchisaurus
and
Omeisaurus
as well as the stegosaurids
Chialingosaurus
,
Tuojiangosaurus
and
Chungkingosaurus
. Its massive tail was almost half its length, as it had a bony knob on its nose and multiple hornlets and ridges, making it slightly resemble
Ceratosaurus
.